ooh I feel better today~~
this last week was horrible (about all)...but I think we have to be optimist and support to japanese people,helping and praying for them...
♦
so...last entry I forget say thanks to Cintia , She take the photos.THANK YOU!
I feel this is my real first cosplay,because was so difficult do it!
but I don't know why but I want to do one more difficult and diferent,But I have to practice too much XD
my pants were not in the pictures!
I love my pants!
♥↓
♦
mmmm I want fans to up my Karma on plurk!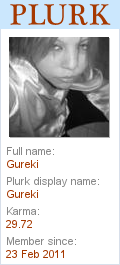 If you have time follow me↑ TUT but i feel I will die with 29.72 of karma hahaha
bye bye